Goodyear Education 5K Run/Walk
Date:
03/30/2019 -

9:00am

-

11:00pm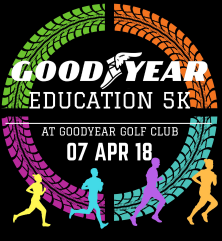 The Cause
In 1992 Ed steffey, plant manager of Goodyear and a board member of the Danville Area Chamber of Commerce, expressed his concrns on the lack of funding for local classromm projects. He convinced the chamber board to start education grants. Using that combination of a passionate leader and Goodyear's beautiful golf corse, a tournament was started with all proceeds being designated for the education grants. Other businesses were invited to participate and the education grant program was launched. In 2007, Goodyear employee Bennett Gobble started a 5K race held on Goodyear Golf course with all proceeds donated to the Education Open funds. Together, tthe education 5K and the Ed steffey Memorial Education glof tournament has raised more than $300,00 for ecucation projects.
The Event
This is a challenging 5K on the beautiful Goodyear Golf Course. Lots of door prizes, trophies, refreshments, and they give away 4 sets of Goodyear tires. 2 sets are given away by a drawing and 1 set to male overall winner and 1 set to overall female winner.